New York Construction Report staff writer
More than $40 million was announced by the City of New York this week, for public spaces and street safety improvements along Fulton Street and across downtown Brooklyn. The project includes streetscape improvements, transportation and public space upgrades including improved bus service and new public art, and pedestrian and roadway user safety enhancements
"Downtown Brooklyn is our most populous borough's largest economic hub. And today, we are bringing it into the future with more than $40 million for green space, efficient transportation, and safe streets that hard-working New Yorkers deserve," said Mayor Eric Adams. "This is how we reimagine our city, reinvigorate our neighborhoods, and revitalize our business districts: with more room to walk, to bike, and to enjoy retail and restaurants safely."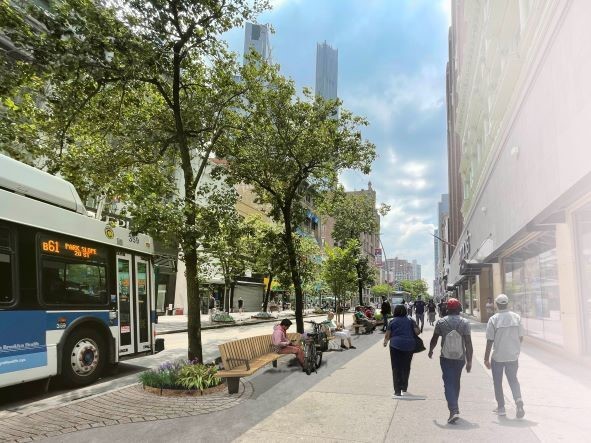 As part of the project, NYC Parks will reinvigorate Fulton Street to support its active commercial uses by adding street trees, improving tree pits, and adding seating — all contributing to a more attractive streetscape. In addition to this $8 million project, leveraging ongoing private development within the neighborhood will expand the reach of these treatments.
Flatbush Avenue Pedestrian and Safety Upgrades
DOT is working with partner agencies on the design for a major, $32 million capital project to expand pedestrian space and improve traffic safety at five intersections of Flatbush Avenue between Livingston Street and Pacific Street. The project will widen sidewalks with concrete extensions and shorten crossing distances — creating safer, more pedestrian-focused intersections — while adding street furniture and street trees to beautify the corridor.
The project includes building a raised shared street at the corner of Ashland Place and Hanson Place, along the Williamsburg Savings Bank frontage, to create a pedestrian-focused node at the Atlantic Terminal and complement plans for a protected bike lane along Ashland Place and Navy Street. A shared street, also known as a "pedestrian-priority" street, is a roadway designed for slow travel speeds where pedestrians, cyclists, and motorists all share the right of way.
Downtown Brooklyn Transportation and Public Realm Improvements:
Ashland Place and Navy Street Protected Bike Lanes: Filling a critical gap in Brooklyn's bicycle lane network, DOT will install protected bike lanes and pedestrian safety improvements on Ashland Place and Navy Street, between Hanson Place and Flushing Avenue, and a slow street on Hanson Place, between St. Felix Street and Ashland Place, later this year. The project plan includes converting Ashland Place to one-way northbound, between Hanson Place and DeKalb Avenue, and converting Hanson Place to one-way westbound, between St. Felix Street and Ashland Place.
Livingston Street Bus Priority Project: This summer, DOT will create two-way, dedicated bus-only lanes on Livingston Street between Flatbush Avenue and Boerum Place, with physical protection and bus boarding islands east of Gallatin Place. The project will make commutes faster and more reliable for 50,000 daily bus riders along the corridor. For general traffic west of Gallatin Place, Livingston Street will remain two-way; east of Gallatin Place, general traffic will be westbound only, with metered parking along the north curb. Additional pedestrian islands and painted pedestrian space will be created to shorten crossing distances and improve pedestrian safety.
Fleet Place and Willoughby Street Intersection Upgrade: This project will reconfigure the parking field at Fleet Place and Willoughby Street to install standard parallel parking spaces — creating a large painted pedestrian space that will feature asphalt art, shortening the crosswalk distance by 75 percent, and allowing for a new stop-controlled crosswalk across Willoughby Street. Implementation is scheduled for July.
"The city's investment in Downtown Brooklyn's public realm demonstrates a profound commitment to the neighborhood and the realignment of our streets for pedestrians, cyclists, and mass transit users," Downtown Brooklyn Partner president Regina Myer said in a statement. "Downtown Brooklyn has become a thriving mixed-use neighborhood, and these improvements will further enhance the downtown experience for shoppers, office workers, and residents alike.
"With the beautified, safer streets afforded by this plan, we solidify Downtown Brooklyn as a nationwide leader in creating a people-first downtown. Thank you to Mayor Adams and the city for helping us spearhead a dynamic infrastructure that champions the needs of Brooklynites."